What does collagen do for the skin?
Collagen ensures that the skin remains elastic. Elasticity in the skin makes the skin tighter and more radiant. From the end of 20 you will lose about 1% collagen per year. The loss of collagen thus causes skin aging. Now you may think: I have to get a cream with collagen now. Unfortunately, you are not going to find a cream where this is on the ingredients list. This is simply because the components of collagen are larger than the pores that it must contain. That is why it is important to have the right ingredients in your skincare that will kickstart production.
Collagen Peptides, Retinol and Vitamin C.
Some examples of ingredients that do this:
Vitamin C: Collagen needs Vitamin C to be produced. If your skin does not have enough vitamin C, this will result in dull skin. Therefore, preferably use products that contain a combination.
Mivolis Beauty Kollagen + Hyaluron
Collagen peptides help reduce wrinkle depth
Collagen peptides help to improve skin elasticity
Collagen peptides help to tighten the skin
Real beauty comes from within. Mivolis Beauty Collagen contains scientifically proven collagen peptides that contribute to a beautiful complexion and a radiant appearance. The collagen peptides support a firmer skin and have been shown to help improve the elasticity of the skin and reduce the depth of wrinkles. [Gluten-Free & Lactose-Free]
Balea Beauty Collagen Retinol Serum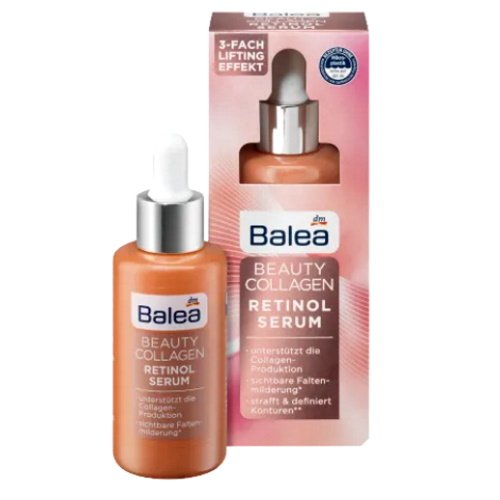 supports the collagen production
visible wrinkle reduction
tightens & defines contours
Retinol is a very effective form of vitamin A that supports the structure of the skin. The special encapsulation of the three types of retinol used ensures better tolerance and enables a controlled release and extended effectiveness in different skin depths.
Formulation without microplastics and water-soluble, purely synthetic polymers.